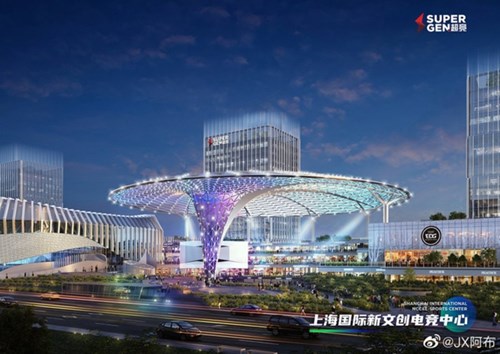 Construction work has kicked off on a major esports and events hub In Shanghai, China, as the city looks to cement its position as a global esports hub.
The Shanghai International New Cultural and Creative Esports Center is being built at a cost of $900 million.
It will cover a 500,000m2 site in the Mihang district of the city and the integral arena will have capacity for 6,000 spectators.
It is designed to be a hub where esports teams and companies can be based and will have a hotel attached.
SuperGen, the Chinese parent company of esports team Edward Gaming, is the main backer of the Shanghai complex.
The esports hub is expected to open in 2024, according to local media.
The esports centre will operate as Edward Gaming's main headquarters and training facility. The Esports Centre will also incorporate various other features such as a 5-star gaming-themed hotel, Asia's deepest deep diving pool (upto 40.4m), and the largest indoor skydiving centre.
The SuperGen Group hopes that the Shanghai International Culture and Creative Esports Center will enable Shanghai to host over 300 esports events a year and help Shanghai to become the hub of the gaming industry in China.
Image: SuperGen
@PanStadiaArena