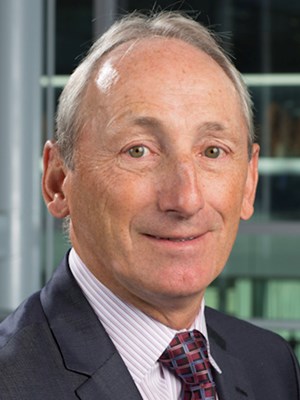 Bob Hunter
Senior Vice President
OverActive Media Group
Robert J. Hunter, currently serves as the Senior Vice-President, Venue Development for OverActive Media, a leading sports, media and entertainment company headquartered in Toronto. OverActive Media is currently undertaking the development to build a new 7,000 seat esports/concert theatre in Toronto. Hunter is the former Chief Venues & Entertainment Officer of Maple Leaf Sports & Entertainment (MLSE) and has over 35 years' experience in the sport, entertainment, hospitality, and tourism industries.  During his career, he has opened and operated three major stadiums in Canada (Rogers Centre, BMO Field and B.C. Place Stadium); one major arena in Toronto (Scotiabank Arena) and two smaller arenas in Ontario. Through his own consulting practice, Hunter has also worked for numerous other clients in Canada and the United States including a major convention centre and numerous "new build" projects in the professional sports venue business.
Overseeing the operating teams for five venues for MLSE, Robert oversaw all venue operations, in-house food and beverage, live entertainment, suites sales and service and construction and venue development.  Home to both the Toronto Maple Leafs and Toronto Raptors, Scotiabank Arena is still annually recognized as one of the top five busiest buildings in North America for sports and concert events.  Robert's food and beverage experience includes growing the company's in-house food and beverage operation revenue from $24 million annually in 1989 to over $80 million in five locations by 2015.
Heading up venue development and construction, he has worked directly on numerous arena and stadium projects on the owners' behalf totaling investments exceeding $1.1 billion.  Robert has also been responsible for all corporate real estate functions on behalf of Canada's largest sports management company.
Hunter has managed large employee groups exceeding 200 full-time and over 3,000 part-time employees with MLSE which is consistently recognized as one of the leading customer service organizations in sports and entertainment.
Prior to MLSE, Robert has held numerous positions in both the public and private sectors.  These include, President & CEO, ProFac Management Group (one of Canada's largest facility management companies); President & CEO, SkyDome Corporation (now the Rogers Centre); Senior Vice President, Operations and Client Services, SkyDome Corporation; Director of Operations, B.C. Place Stadium; and, Director of Operations, Expo86 World's Fair.
On a community basis, Robert has been a volunteer for over 30 years for the International Association of Venue Managers (IAVM) including roles as Board Member, Vice Chair Certification Board, Arenas Committee Chair and Chair of IAVM's Foundation.  He has also taught for over 25 years at the Associations Industry School held annually.  Robert has also served as an Expert Witness on Venue Safety matters.
Hunter serves and has served on numerous Boards in his hometown of Toronto including Athletica Sports, Metro Toronto Convention Centre, Destination Toronto, Business Improvement Association and two other Foundation Boards.
Speaker Sessions
Wednesday 25 May

SPONSORED BY

: 5:00pm UK / 12.00pm EST