What role will audio-visual (AV) technology play in venues of the future?
As sports and entertainment facility designers, it is our job to constantly investigate emerging trends and explore new technologies that can enhance the spectator experience. Looking at the future of sports facilities, we are confident that integrated, state-of-the-art AV systems will be critical to creating the most successful venues.
As the war between sofa and stadium rages on, every touchpoint in the fan experience is increasingly important to attracting fans to view a game in person.
Stadium owners are leveraging different levels of technology to create immersive, engaging experiences authentic to their venues.
The evergreen saying in sports is that 'Stadiums are the new cathedrals' and certainly venues continue to offer fans something breathtaking and iconic.
Whilst not all experiences have to be super-high-tech, for example, the pleasure of witnessing world-class tennis on a massive video screen at Wimbledon's Henman Hill, yet this is increasingly rare.
In Atlanta, Georgia, the renovation of State Farm Arena incorporated a seamless, four-sided, centre-hung scoreboard, as opposed to the usual combination of screens with visible joints showing.
This allows the NBA's Atlanta Hawks to program content continuously around the LED surface.
Just down the street in Atlanta, Mercedes-Benz Stadium boasts the world's first 360-degree halo video board, a tool which is leveraged to share video content in the round, as no venue has before.
Most recently, Argentinian football club Estudiantes de La Plata celebrated the reopening of its stadium with a realistic, large flaming lion hologram, viewable through a smartphone app or on the big screen, that set the internet buzzing.
While staying home to watch a game may be cheaper and more convenient, fans who choose to stay on the sofa risk missing the powerful social experiences and "goosebump moments" that technologies can create.
This sophisticated digital technology also is valued by sponsors, as it equips them with innovative ways to reach fans with unique, targeted content.
Technology also plays an important role in enabling venues to quickly adapt to all types of events: from Esports tournaments to concerts, cultural events, games and more.
At the newly named Etihad Arena, which opens later this year in Abu Dhabi, the venue offers an intimate yet highly flexible bowl design that can expand from a cosy 200 seats to accommodate 12,000 spectators.
The days of sports venues being solely about match days are going away. We are designing venues to also host cultural events, act as community hubs and offer year-round dining and amenities, from barber shops to restaurants and Topgolf facilities.
Integrated AV technology helps future-proof these venues to accommodate multiple uses into the future.
Immersive AV components can augment our efforts to design more intimate stadium bowls that energise the experience of fans. Tomorrow's sports venues also will be hubs blending content generated by fans on their mobile devices with data produced from the games.
As a result, it's no longer good enough to have functional AV equipment. It needs to be of outstanding quality and have the potential to be personally tailored to the in-venue experience. In the future, creative activation of the fan-venue relationship could see fans 'leveraged' as an active part of the live experience, giving them the opportunity to be part of the spectacle.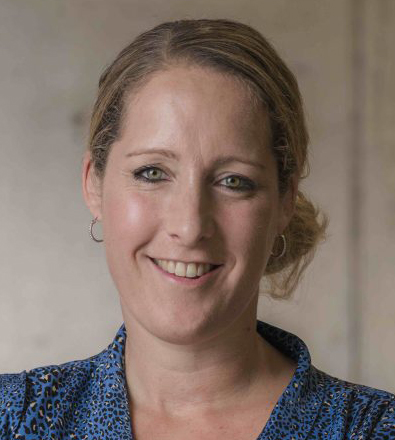 About the Author: Kirsty Mitchell is a senior associate and project manager for the Sports + Entertainment practice in HOK's London studio. Originally from New Zealand, Kirsty has expertise with many facets of sports architecture. Her project experience includes the Silverstone Wing (Pit Lane and Paddock Building), the Dubai World Expo 2020 Master Plan, the Ethiad Arena in Abu Dhabi, and Gateshead Quays Arena and Convention Centre.
Image: The halo video-board at Mercedes-Benz Stadium
@PanStadiaArena
@esportsvenue