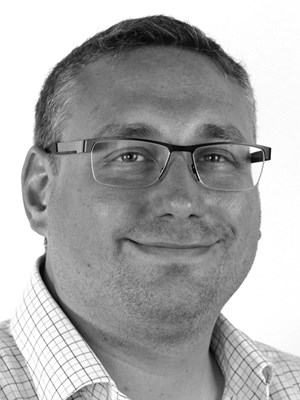 Jonathan Lyth
Technical Director
ES Broadcast
Jonathan Lyth joined ES Broadcast as Technical Director in mid-2017, bringing with him more than 17 years' experience of delivering innovative systems integration projects in multiple broadcast disciplines across the globe.
He heads up our systems integration division, alongside Projects Director Chris Williams. And because of his broad range of experience in designing and building broadcast systems, Jonathan Lyth is also an invaluable resource in helping identify the precise combination of equipment that you need to make your broadcast workflows work efficiently.
Vast experience in delivering cutting edge broadcast systems
Jonathan's systems career began on the shop floor as an engineering apprentice before working his way up to Lead Project Engineer and Systems Manager roles with two UK-based systems integrators. For the last decade or more he has led large-scale systems teams working on a broad range of cutting-edge integration projects.
Jonathan's technical knowledge is encyclopaedic, having undertaken a vast range of manufacturer training courses. He is APM Level D-qualified in project management, and has completed CPD courses in leadership, management and presentation skills.
Technical leadership for your systems integration project
As Technical Director of our systems integration division, Jonathan Lyth provides technical leadership, project delivery and proposals expertise. From establishing the scope of a project to final delivery, Jon ensures that the equipment choice and systems design delivers the precise functionality you need, without any compromise.
He has a proven track record in designing systems architecture that meets the precise needs of clients, having delivered more than 200 vehicle-based projects, and a similar number of fixed installations, including MCR/TX and play-out facilities, studios and post production suites.
Jonathan was the systems integration lead for OGN's battle arena facility at Manhattan Beach Studios, Los Angeles, a project which ES Broadcast undertook in partnership with global broadcast media and event production specialist De Tune.
More recent projects have put Jonathan in the realms of UHD, IP contribution and remote production, and he is eager to help more clients embrace the challenges of these new technologies in a manner that brings realistic and tangible benefits.