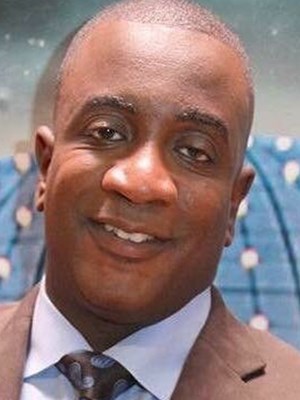 Dr Marc Williams
Global Scholar Practitioner / Commissioner
Florida Memorial University / HBCU esports League
Over the past 25 years, Dr. Marc Williams has been widely regarded as a Sports Marketing Pioneer and worked for three of the largest Sports Brands in the world: Champs Sports, Footaction and Reebok.  He is also considered one of the leading educators in the world in Sports Marketing.
Dr. Williams is the inaugural Global Scholar Practitioner at one of the nation's Historically Black Colleges and Universities, Florida Memorial University, where he will prepare students in careers in STEM & ESPORTS. Currently, he is in partnership with the U.S. Department of Education on identifying ESPORTS programming and funding for HBCU's in higher education. 
Dr. Williams is indeed a pioneer in Sports and Entertainment. He was instrumental in many firsts:
Hip Hop Artist Collaboration
Signed the first Hip Hop Artist to a monumental sports retail collaborative deal: Grammy Award winner artist Eve and record label Ruff Ryder, as an executive for athletic retailer Footaction.
The Videogame Industry
Negotiated product placement for athletic retailer Footaction in the 2003 award-winning "Streethoops" basketball game by videogame publisher Activision/Blizzard.
Basketball Tours
Co-created one of the most successful grassroots basketball tours: "The AND1 Mix Tape Tour," a deal between athletic retailer Footaction the AND1 footwear company.
During his tenure at Champs Sports, he was in charge of marketing and advertising, where he also managed the company's partnerships with the following organizations: NBA, NFL, MLB, ESPN, EA Sports, Activision, Nintendo, 20th Century Fox, Atlantic Records, Universal Music Group, Geffin Récords and Def Jam Records.
Dr. Williams also led a team that created college football's "Champs Sports Bowl" that featured NCAA teams in the ACC & Big East with a bowl game payout of $4.25 Million for each team. He negotiated product placement in over 120 Music Videos, 75 Feature Films- including Oscar Award winning film "Sideways" and 50 Videogames. In addition, he worked with several legendary icons, such as Michael Jordan, Beyoncé, Jay Z, Aaliyah, Venus Williams, 50 Cent, Allen Iverson, Maroon 5 and Will Farrell to name a few.
CNN named Dr. Williams as one of the Top 20 Inspirational Speakers in the World. His insights have been featured in media outlets such as CBS Evening News, BBC World News and CNN.
Dr. Williams is the author of 2 books: Defeating Cancer: A Holistic Approach to Living an Empowered Life and The Art of Networking.
Quotes From Prominent esports Executives
"CSL and WorldGaming Network are honored to partner with Dr. Williams and Florida Memorial University regarding opportunities in esports at HBCUs. Dr. Williams is one of the leading educators in esports in the world and we are thrilled to use our resources and platform to provide access and career opportunities in esports for Florida Memorial students. Our collaborations with Dr Marc through CSL/Collegiate StarLeague have also proven to help a number of colleges and universities harness the power of esports as recruiting tools, and to attract the best and the brightest aspiring students (STEM, computer science, engineering) who are at the nucleus for esports participation and affinity."
Wim Stocks: CEO; Collegiate Starleague & WorldGaming
"I am excited that Dr. Marc Williams will be leading such a unique and timely program at Florida Memorial University. Over two decades Marc has been a leader across the sports and esports industries whose distinguished track record will be a wonderful resource for all HBCU's. He will be a fantastic addition to Florida Memorial University, particularly beneficial to the Students and contributing to the amazing Sports and esports ecosystem of Miami."
Chris Chaney, Advisor, Investor, Entreprenuer. Founder, Houston Outlaws, Op Tic Gaming, Infinite esports & Entertainment
"I have been collaborating with Dr. Williams over 5 years, he is one of the most innovative Educators in in the world. His knowledge of esports and the sports industry is second to none and has always been on the cutting-edge leveraging technology.  Dr. Williams also has the pulse of both business and industry trends setting his work well ahead of the curve.  I believe Dr. Williams would be a great asset to the great city of Miami and is the obvious choice for the new innovative esports and entertainment program at Florida Memorial University." 
Dr. Alan Ritacco Dean of the School of Design and Technology, Becker College
(1st College in America to have an esports major)
"I have known Dr. Williams professionally over 20 years when he was a Senior executive at Athletic Retailer's Footaction and Champs Sports where he secured one of the first major endorsement deals from Corporate America for Destiny's Child.  Over the years, Dr. Williams has worked with both Beyonce and Solange. He is considered one of most respected human beings globally in the entertainment and sports industry. What impresses me the most about Dr. Williams is his passion for young people to succeed. He is the perfect choice to lead this new innovative program at Florida Memorial University."
Dr. Mathew Knowles (Father of Beyonce & Former Manager)